Oregon Background Check Bill Hearing Biased Against Pro-gun Speakers
Guns Save Lives is not supported by ads and is ran as an independent project. If you support this project please consider supporting us on Patreon. Registration takes just a moment and even $1 is a massive help in continuing our work. Thank you so much.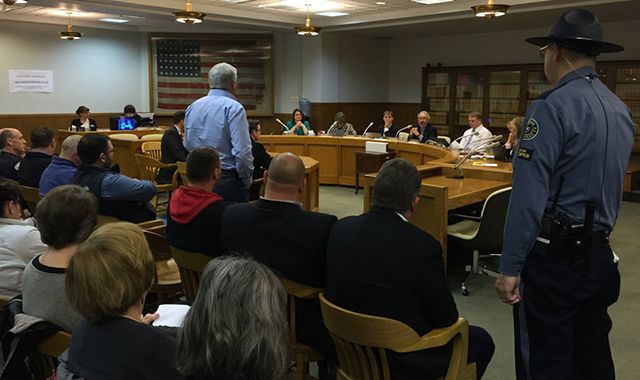 LocalPDX is reporting now that in a recent two-hour hearing on the new expanded background check bill (SB 941)was less than balanced.  The numbers were staggeringly against the bill, many taking time off work to show up.  With only about 20% of them allowed to testify, many times being cut off way before getting into anything that resembled actual arguments. On the flip side, 94% of those that showed up to testify in favor of SB 941 were allowed to testify.  Legislators were also discouraged from asking questions of the citizens that were there to testify.  In all, according to GoLocalPDX 68 people were turned away from speaking with their elected body on a bill that will ultimately directly impact their lives.
"I'm very disappointed that the Committee Chairman would limit public discussion on such an important bill," said Rep. Greg Barreti (R). "I'm even more upset to learn that one of my constituents, who took a day off from work and traveled more than five hours in order to speak on this issue, was turned away by the committee. Oregonians deserve better from their Legislature."
Much of those in favor of the bill peppered the legislators with emotional stories of gun violence, but never actually gave real meaningful information on how this bill may have prevented the crimes they spoke about.  Everytown for gun safety recently released a report that over 25,000 guns were sold in Oregon through private channels.  But this number is just from listings taken from four different sites over the course of 217 days.  As many out there know that not every listing for a private sales leads to one.  I have personally listed many guns for sale, only to end up keeping them.
While there were several other issues I had with the Everytown study, I am sure that many of them go without having to be mentioned.  Their numbers are flawed at best and mostly fabrications with several issues in how they are collecting their data.  But this would seem to be par for the course for that organization.
This looks to be the same thing that happened here in Washington where special interests from out-of-state were given 10-15min of time while citizens where limited 2-3min.  Out of state interest groups and their "celebrity speakers" were given not only time, but five times as much time to make their point.  I predict this will be coming in Oregon soon.  The handwriting is on the wall and this bill will come to pass in many of the same ways that I594 did here in Washington State.
Only 19 percent of opposing witness where allowed to testify against an Oregon Senate Bill that would expand background checks for private firearms, while 94 percent of supporting witnesses testified on Wednesday, April 1.

"Many rural Oregonians traveled hours to express their concerns about SB 941, and we owe them the chance to engage in the political process and speak directly with their representatives in Salem," said Senator Bill Hansell (R-Athena). "Their commitment proves this issue is one that deeply affects all Oregonians and they deserve an equal opportunity to be heard."

In all, 68 Oregonians were not permitted to testify against Senate Bill 914 at the public hearing. Senator Prozanski held a two hour public meeting for the bill, and limited testimony two minutes.

On Thursday, House Republican Leader Mike McLane and Senate Republican Leader Ted Ferrioli called on legislative leadership to extend public hearings, so more Oregonians who wished to testify could do so.

"I'm very disappointed that the Committee Chairman would limit public discussion on such an important bill," said Representative Greg Barreto (R-Cove). "I'm even more upset to learn that one of my constituents, who took a day off from work and traveled more than five hours in order to speak on this issue, was turned away by the committee. Oregonians deserve better from their Legislature."
Disqus Comments
comments powered by

Disqus